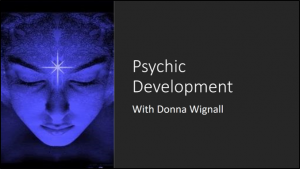 Have you ever wanted to develop your psychic ability but don't know where to start without feeling out of your depth???
If your answer is YES, the workshop is for you and it's time to get your spooky on!!!
First things first – YOU ARE PSYCHIC – WE ALL ARE.
You unconsciously use your psychic ability … EVERY day!
This workshop will take your psychic awareness from "0 to Psychic', by the end of the day.
I will show you you how to wake up, strengthen and evolve your psychic ability, using simple techniques – techniques you will consciously use effectively from his day on.
The results will harvest a more 'in-tune' life, better decision making, better relationships, etc. You will feel you ARE in control.
Please note this workshop is not Mediumship – but is a great foundation for those wanting to go in that direction later on in your development.
This workshop is also open to those who have an understanding of their psychic awareness and would like a refresher to re-boot their 'psychic muscles'.
$155 investment
Tea, Coffee and morning tea provided.
BYO lunch
Chilled bottled water is available for $1
Time:
9.30am – 3.30pm
Location:
Cosmoss Gateway HQ, Unit 1/233 Ocean Keys Boulevard, Clarkson
(Parking is available on Ocean Keys Boulevard however, the entrance Is around the back on Hatton Lane.  There is a vacant block next door that can be used as a walk through from Ocean Keys Boulevard to Hatton Lane.   If you then come through the cream colour bond gates and up the stairs)
Purchase your tickets through the following link

Social Share