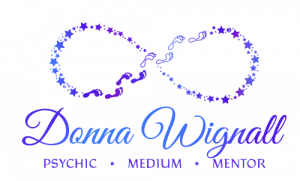 CANCELLED UNTIL FURTHER NOTICE DUE TO GOVERNMENT PROTOCOLS!!!
Donna's Psychic Shows 2020
Psychic Medium Donna Wignall hosts monthly powerful and energetic shows
Donna and Ann-Marie/guest medium deliver vibrant messages from loved ones in Spirit and bring forward some great inspirational advice.
Donna's Psychic Nights occur twice a month.
Shows start at 7.30pm "sharp" and finish at 9.30pm.  Doors open at 7pm.
Venues
Mindarie – Quinns – Quinns-Mindarie Community Centre
2 Quinns Road Mindarie (Above Quinns Mindarie Surf Life Saving Club)
Wednesday evenings 
Dates:  22nd January,  12th February, 11th March, 8th April, 10th June, 8th July, 12th August, 23rd September, 14th October & 11th November.
Carramar – Carramar Community Centre
5 Rawlinna Parkway Carramar
Last Monday of each month
Dates:  27th January, 24th February, 30th March, 27th April, 29th June, 27th July, 31st August, 28th September, 26th October & 30th November.
Please refer to our website calendar for the exact dates for 2020.
Entry on the night is $25 cash and you pay on the door.  No online tickets sales available.
We have a 10-15 minute tea & coffee break mid way through the night (provided)
There is a charity raffle held each night.  Raffle tickets are $1 each.  When you buy a raffle ticket you are eligible to nominate someone you know who is struggling and would benefit from a financial boost and a little light into their dark.
We have helped so many people with our charity raffle and it proves that as a community we can make a little difference when we unite.
If any of you have any unopened / unused prizes you wish to donate for our charity raffle bring along with you on the night.  Every little bit helps.
Social Share