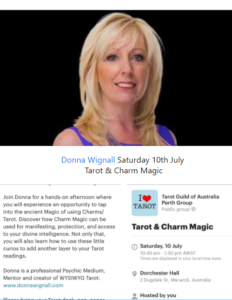 Everyone is welcome to attend this talk/workshop, hosted by Jo Watkins, Facilitator of the Tarot Guild, Perth.
Date: Saturday 10th July, 2021
Time: 11am – 1.30pm (best get there earlier for a seat!)
Venue:  Dorchester Hall, 2 Dugdale St, Warwick.
Entry:  $18 non-members, $10 members
BYO Tarot cards, notebooks and pen.
Refreshments provided.
Social Share